NOW PLAYING at the Daily Lesson: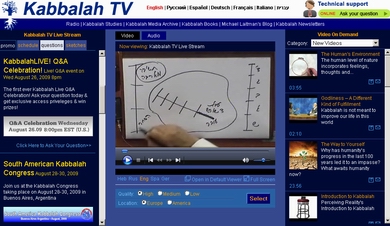 Notes from a Bnei Baruch student during the lesson, published live:
There was once one soul, connected in the Light of Infinity. All the souls were within it, but in such a bond, that it was as one. Then what happened? The Light disappeared, and it was revealed that there was a disconnection between them. In other words, the Light disappearing is the reason for the disconnection among the souls, and what people feel as the disconnection between them. To the extent that people can correct this connection, by inviting the Light back into this connection, to that same extent people can rediscover their interconnection as one soul.
A person's spiritual work is in constantly depicting this place of disconnection between the souls, not in a negative way, but in a way where one realizes what one should do in order to rediscover this interconnection.
NOW PLAYING at the daily lesson – 8:10pm to 11:00pm EST: www.kab.tv/eng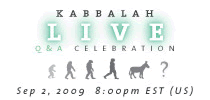 Kabbalah LIVE Video Q&A Celebration
Wednesday, September 02.09 – 8:00pm EST (U.S.)