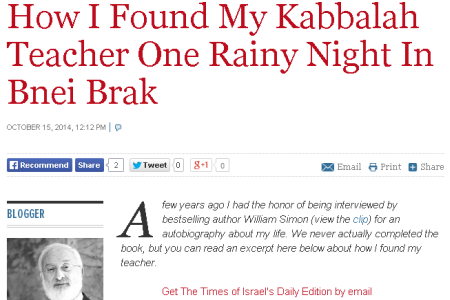 A few years ago I had the honor of being interviewed by bestselling author William Simon for an autobiography about my life. We never actually completed the book, but you can read an excerpt here below about how I found my teacher.
Michael and his family were now settled in Israel, living a penthouse lifestyle with a housekeeper, a garden fountain, and many enviable high-tech conveniences. He and Olga had chosen the comfort of Rehovot, twenty miles south of Tel Aviv, where they could hear the sounds of the night and see the galaxies without shrill interferences from city lights or sirens.
After two years of work with F4 Phantom fighter aircraft, Michael could breathe easy—he had completed his required military service. The dental clinic was successfully producing a dependable and attractive income. And he was wealthy enough to own an imported large black Buick sedan. Many people would have put their feet on a desk and said, "I've made it." But not this man. In the silence of Rehovot, Michael was still in distress over the same questions that had kept his life in turmoil for so many years.
Then came a day at the dental clinic in 1978 when a clean-shaven man showed up for an appointment. He arrived at a time when Michael was busy trying to repair one of the clinic's machines. Chaim Malka had the chiseled bone structure of a European though he was from Morocco. Despite being college-educated, he held a job as a factory maintenance technician.