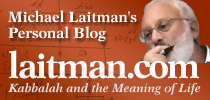 Laitman.com
Kabbalah and the Meaning of Life: Michael Laitman's Personal Blog
Read a Kabbalist's personal impressions of the spiritual world, his take on current events, ask whatever you like, and much, much more.
Ask the Kabbalist
One of the features of Michael Laitman's personal blog is the ability to ask him whatever you like, and also, see the questions he is answering from people like you all around the world. Here's a sample…
* A question answered on April 6th: Why do you reveal all of this secret knowledge to gentiles? Go To Answer>>
* A question answered on April 4th: How did man evolve on Earth? You wrote that millions of years ago a primitive man appeared on Earth. How did he get here? Go To Answer>>
* A question answered on April 3rd: What do you mean by saying that sex is the root of all our desires? What does Kabbalah have to say about everything that's going on today surrounding sex, like pornography, prostitution, and so on? Go To Answer>>
* A question answered on March 31st: Do you think increasing availability of information instantly over the Internet and the advent of mobile devices such as the iPhone will increase interest in Kabbalah, and how do you perceive the future of human technology as a vehicle for attainment of the Upper Light? Go To Answer>>
Want to ask Michael Laitman a question? Click here to go directly to the question asking form
Click Here to Sign Up for a Free Kabbalah Introductory Course – Starts Soon!