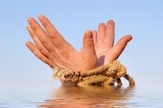 From the Daily Lessons – In following video, Rav Michael Laitman, PhD talks about freedom: what it is, what it isn't, and where freedom can be found. He deals with the question "What does it mean to be free?" asking "What is free in you?" and explains how to attain a different kind of nature, and acquire the ability to exercise freedom against everything constraining us.
Video: Where Can True Freedom be Found Today?
Download this Lesson: wmv video | mp3 audio [54:02]
Additional Sources:
Videos
*Where Is Our Freedom?
*Upbringing – an article by Rav Michael Laitman, PhD
*Society's Approval is the Greatest Reward – An Interview between Michael Laitman and TV anchor Lev Novozhenov
*Influence of the Environment – a post on Laitman.com – Michael Laitman's Personal Blog.
Click Here to Sign Up for a Free Kabbalah Introductory Course – Starts Soon!