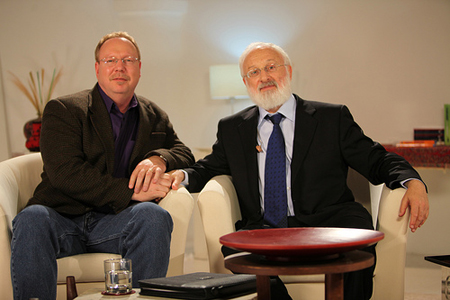 Listen to this interview using the Flash player below:
[audio:http://flash1.na.kab.tv:8080/eng/shows/crossroads/mp3/eng_mayevent_crossrd_john-staugustine_26min_2009-05-20.mp3]
John St. Augustine, host of Oprah Radio's John St. Augustine Show and author of Living an Uncommon Life and Every Moment Matters, talks with Kabbalist Dr. Michael Laitman about the growing dissatisfaction with life that a lot of people face, and how to bring a solution to this problem.
Here's an extract from the conversation:
Host: How do you get people to really connect?
John St. Augustine: You listen to shows like this. I am serious. It's like going to the gym and working out; you have to do it over and over again. I believe at some point in our lives, either you push yourself towards it, or the universe will push you towards it. You'll have a break – an illness, a divorce, a loss in business, a death in your family – and all of sudden, the ego takes a hit and you say, "Wait a minute, maybe something else is out there that I didn't realize"?
Host: Dr. Laitman, do you care to comment?
Michael Laitman: We find it very difficult today. As John said correctly, the new technologies that were so trendy and so appealing in the last decade, computers, now iPhones, and whatever else; today, we see in advance that it is not going to satisfy us. We become experienced that it is going to be over soon.
Host: What is the answer?
Michael Laitman: The answer: There is nothing drawing me forward and pulling me. We have to search for a new goal, but a goal that will not be like previous goals…
Listen To The Full Interview (MP3 Download) »

Read The Full Interview (PDF Download) »