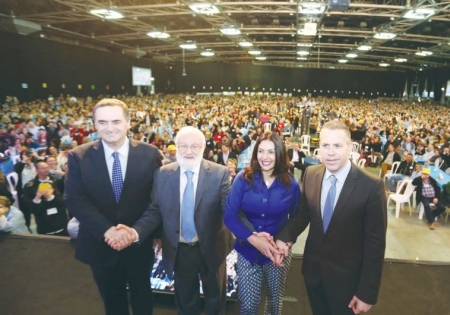 Jerusalem Post, February 25, 2016: Some 6,000 participants from 62 countries expressed support on Wednesday night for Israel at a Kabbalah conference at the Tel Aviv Fairgrounds.
Guests of honor at the conference included, Transportation Minister Israel Katz, conference speaker Rabbi Michael Laitman, Culture and Sport Minister Miri Regev, and Public Security and Strategic Affairs Minister Gilad Erdan.
Conference participants arrived from all over the world, including the US, England, France, Russia, Japan, Norway, Turkey and more.
Rabbi Laitman addressed the conference, saying, "I am happy that we have here such a large gathering of people. The conference is being held for the seventh year and, as is true every year, I am happy and excited for the opportunity that has been given to me personally and to us as an organization to work for unity among the Jewish people, through the absolute support of thousands of people from all over the world, who share our values and beliefs about unity and togetherness, every hour of every day."
Katz praised Laitman for the organization's operations, saying that the "great cooperative project" was a strong body that could "fight boycotts and phenomena such as BDS, together, through love and support."
Erdan saluted the organization for strengthening the most important value – "Love your neighbor as you love yourself."
Jerusalem Post, Tel Aviv