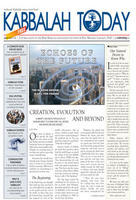 Today, the question about the meaning of life is not a question we can put aside. The increasing drug abuse, depression, suicides, and violence, and such trends as the new age, mysticism, and radical cults are all signs that humanity is looking for the answer.
It is time for the authentic wisdom of Kabbalah to come out of its "hiding" and present humanity with the means to connect to the source and the purpose of its Creation.
We hope you will enjoy this issue of Kabbalah Today and that you will not hesitate to share your thoughts and comments with us.
In this issue:

Echoes of the Future – Today, the echoing sound of the Shofar is not just a Jewish symbol. It represents the sound that emanates from the bottom of the human heart, asking for a change in today's reality.
Creation, Evolution and Beyond – Humanity has been through a lot. Now we want to know how it all began and where we are headed.

The Complete Guide for No Idiots – It probably isn't the first setting you'd consider for revealing such ancient wisdoms, but The Complete Idiot's Guide to Kabbalah is a pleasant surprise: comprehensive and easygoing at the same time.

Kabbalah Icons – The Rabash – Rabbi Baruch Shalom HaLevi Ashlag (The Rabash), son and successor of Rabbi Yehuda Leib HaLevi Ashlag (Baal HaSulam) was a hidden Kabbalist. Despite his high spiritual level, the Rabash was a humble man, and spent his time studying and writing. Even so, it is hard to find words to describe even a fraction of his enormous contribution to our generation and to future generations.
Baal HaSulam on the Perception of Reality – the five senses do not reveal to us any essence at all, but only incidents and manifestations of operations of the essence. It is known that that which we cannot feel, we also cannot imagine; and what we cannot imagine, we also cannot contemplate; we have no way of perceiving it.
…and more, including Q&A, definitions of terms used in Kabbalah, Kabbalistic quotes and more articles discussing Kabbalah's basic principles and our perception of reality.
Comments off