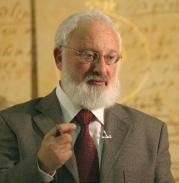 Click here for Rav Michael Laitman's USA and Canada tour information page
This October, Rav Michael Laitman, PhD will be touring the United States and Canada giving public lectures and media interviews. The primary focus of his tour's message will be the global situation today and humanity's future, which has been predicted and perceived in the authentic wisdom of Kabbalah since its inception 4,000 years ago.
This tour is a follow-up to the success of Rav Laitman's latest publication, The Complete Idiot's Guide to Kabbalah (Alpha, a member of Penguin Group (USA) inc., 2007), one of Rav Laitman's most easy-to-understand and clearly written books on authentic Kabbalah for English speakers to date.
Tour Dates and Locations:
Los Angeles
October 9th at 8 – 9:30 pm
JCC Sherman Oaks
13164 Burbank Blvd. Sherman Oaks 91401
October 10th at 8 – 9:30 pm
The Olympic Collection
11301 Olympic Blvd. West Los Angeles 90064
for further information: 818-985-8900, 310-376-4277
BneiBaruchLA @ yahoo.com
San Francisco
October 11th 8 pm
Toronto
Oct 16th, at 8:00 – 9:30 pm
B'nai Brith Building
15 Hoove Street (Bathurst & Sheppard), Toronto
for further information:
Tell: 416-840-5487
for further information: info @ bbtoronto.info
www.bbtoronto.info
Miami
October 18th at 8 – 9:30 pm
Ramada Marco Polo http://www.marcopolobeachresort.com
19201 Collins Ave. Sunny isles, Florida 33160
Tel 877-327-6363
New York City
October 24th at 8-9:30 pm
Marriot Marquis
1535 Broadway
New York 10036
Click here for more information and contact details
Click Here to Sign Up for a Free Kabbalah Introductory Course – Starts Soon!
Comments off