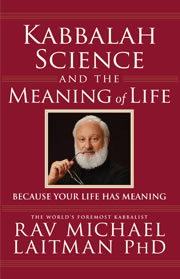 Kabbalah, Science & the Meaning of Life traces the milestones of the evolution of science with which we are familiar, such as Newton's and Einstein's theories but goes further to present the science of Kabbalah as the basis for understanding the hidden parts of reality which scientists are now discovering. While other sciences research the definable world around us, Kabbalah teaches us how the spontaneous changes occurring within us affect our surrounding reality. The wisdom of Kabbalah enables us to monitor those changes and control them, and in so doing change our world for the better.
Audio Files (MP3) – Every Link Is One of the Book's Chapters:
* Foreword
Part I: Kabbalah Meets Quantum Physics
* Attendees of the San Francisco Conference
* Presenting Kabbalah
* The Nature of Matter
* The Giving Force and the Receiving Force
* Between Kabbalah and Science
* Quantum Theory
* The Credibility of Quantum Theory
Part II: The Essence of the Wisdom of Kabbalah
* Striving for Balance
* The Structure of Reality
Part III: Perception of Reality
* Building the Spiritual Kli (Vessel/Tool)
* Perception Patterns
* Regaining Consciousness
* Picturing Reality
Part IV: Realizing the Spiritual Gene
* The Reshimo
* Revealed and Concealed
* Nature's Laws
* Kabbalah – the Modern Science
Kabbalah, Science and the Meaning of Life: Because Your Life Has Meaning
– Download Free PDF eBook
– Purchase Print Version
Click Here to Sign Up for a Free Kabbalah Introductory Course – Starts Soon!
Comments off