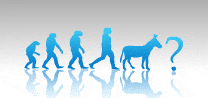 UPDATE (27.08.09): DUE TO THE SUCCESS OF THE FIRST Q&A CELEBRATION, WE WILL BE HOLDING ANOTHER ONE THIS COMING WEDNESDAY, 2 SEPTEMBER, AT 8:00pm EST (U.S.). YOU'RE QUESTIONS ON THIS BLOG POST WILL GO TOWARD THE UPCOMING EVENT, OR YOU MAY LIKE TO POST THEM ON OUR UPDATED PAGE… JUST CLICK ON THE FOLLOWING BANNER TO GO THERE: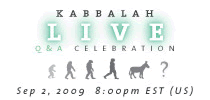 Kabbalah LIVE Video Q&A Celebration
Wednesday, September 02.09 – 8:00pm EST (U.S.)
We at the Bnei Baruch Education Center are so excited about the upcoming Kabbalah introductory course, which begins on September 9, that we can't wait to get started!
So on Wednesday, 26 August, we'll be holding a free public preliminary live Q&A session with you to celebrate the upcoming course.
We invite you all to post just one question that's itching away at you, and get it answered at the live event. Maybe you have a question about Kabbalah itself, or how Kabbalah can help you in a certain situation you're facing, or how Kabbalah explains all kinds of events occurring in our world, or any variety of concepts, such as whether we have free choice, how we perceive reality, why we feel pain and pleasure, or countless other things…
Kabbalah encourages the asking of questions to progress, so here's an opportunity to ask your first question and get it answered live!… Just write your name, e-mail, and the question you have in the comment form below, and you'll get reminder e-mails with a link to the live event where we'll answer your question.
AND… By sending us your question using the comment form below, you'll go into the draw to win a number of book & CD giveaways!
UPDATED TODAY (26.08.09) – CLICK HERE TO GO DIRECTLY TO THE LIVE EVENT!!! – 8:00pm EST (U.S.), Wednesday, 26 August, 2009
We'll be updating about this event regularly on this blog, and providing new Q&A material leading up to the event to help you prepare. Here is the first of many of these: a free PDF for you to download, containing a top 5 Q&A on free will taken from Michael Laitman's personal blog: (PDF) Kabbalah on Free Will – Top 5 Q&A Series from Michael Laitman's Personal Blog.
Related:
Ask a question below!
Privacy: Any information you submit will never be shared, rented or sold.