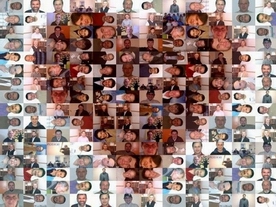 In the beginning, humanity thrived and prospered in common love.
Over the generations, human evolution, fueled by growing egoism, destroyed the common love and brought about exile from this perfect state.
Today, as human egoism intensifies, humanity finds itself at a crucial junction: we need love for one another like air.
In order to achieve the state of common love that humanity experienced eons ago, the great Kabbalists adapted the wisdom of Kabbalah – the method that teaches how to reach common love – to our generation.
The growing need to reinstate the love among us is the reason for the current emergence of the wisdom of Kabbalah among the masses.
When we reach out our hands to one another and unite, we will be on the highway to another life –
one of love, perfection, and eternity.
To make this happen, we only need to want it.
Kabbalah stems down in a new language today, one suiting itself more and more to the people's needs, since the need to feel love is growing. The main messages of Kabbalah are emerging in popular verbal, pictorial, and media forms today, so that everyone has a chance to bond in the common love between us.

Click Here to Get the New PDF "Kabbalah on Love" featuring Q&A from Michael Laitman's Personal Blog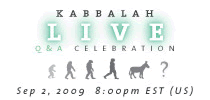 Kabbalah LIVE Video Q&A Celebration
Wednesday, September 02.09 – 8:00pm EST (U.S.)