Taken from today's daily lesson, on Baal HaSulam's 18th Igeret (Letter) from 1926.
Today's Daily Lesson Featured:
…with commentary by Rav Michael Laitman, PhD, as well as questions by students of Bnei Baruch and live viewers on Kabbalah TV.
The lessons will be continuing daily at 8:10pm until 11pm EST, Saturdays through Thursdays, on Kabbalah TV, and will be available for free download in the Kabbalah Media Archive.
Related: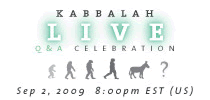 Kabbalah LIVE Video Q&A Celebration
Wednesday, September 02.09 – 8:00pm EST (U.S.)