Get your alarm clocks ready! The Bnei Baruch Kabbalah Education Center summer semester starts today!
Don't miss the first class of the semester tonight at 8pm EDT (Americas class) and 8pm GMT (Europe class)

Kabbalah is a whole new approach to life which will most certainly change the way you perceive your reality. One of the unique features of this online Kabbalah course is the ability to ask questions and interact with your instructors in real time!
Also if you miss any classes you can download them for free from our lesson archive. Finally the student forum is a great place to visit to get answers to questions that weren't answered in class.
If you haven't signed up yet, don't miss your chance
Click Here To Reserve Your Place In The Course Today!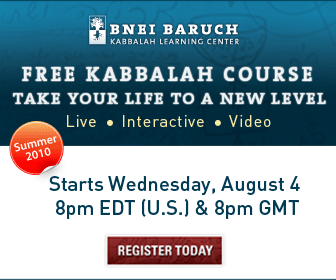 We will be studying from Kabbalah for the Student, the official Education Center textbook.
If you haven't already, it is recommended to get a copy of this book to make the most out of your course.