Did You Know that Reality Is Really a Desire to Receive Pleasure?
The wisdom of Kabbalah is a method for discovering the hidden part of reality, that imperceptible realm of reality that our five senses cannot grasp. It develops another sense in us, one that perceives the reality that exists beyond our present perception.
Kabbalah says that the whole of reality consists of a substance called "the will to receive pleasure." This will to receive pleasure is essentially a desire to be filled with delight, enjoyment; it is what we so often refer to as "egoism." This will to receive operates on all levels of existence: still (inanimate), vegetative, animate, and speaking.
Although the will to receive is the substance of all reality, the desire in itself is neither matter nor atoms, which came later. Everything that was created, that exists as the basis of reality, is based on the desire to enjoy, an aspiration for pleasure. In each level of reality, this aspiration takes on different forms.
Every Kabbalist, without exception, from Abraham to the last great Kabbalist, Baal HaSulam, maintained that the entire substance of Creation consists of a desire to receive. Every Kabbalah book speaks of the same thing, and all Kabbalists are in agreement in that regard.
Kabbalists are people who attain the Upper World; they speak from tangible attainment, not from theory. The word, "attainment," refers to the ultimate degree of understanding. Let me make things easier to understand by using some drawings.
How Reality Develops in a Step-by-Step Process
Phase One in the Development of Reality: A Giver Needs a Receiver
We said that the will to receive is the basis of Creation. It is created by the expansion of the Upper Light. (In Kabbalah, the term "Light" designates giving, bestowing, love; it is referred to as "the Creator"). Thus, the Light created the will to receive that wants to be filled with the Light. Hence, the will to receive is also called Kli (vessel/receptacle), see Figure 1.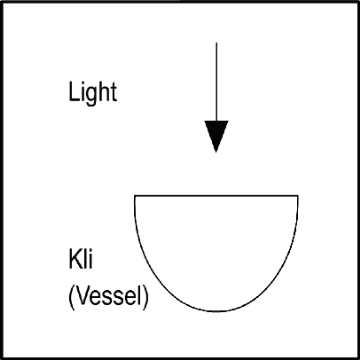 In other words, the desire to give creates the desire to receive, meaning the Light wants the Kli (vessel) to receive what it wants to give it.