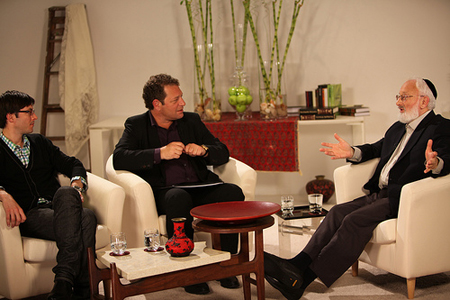 Listen to this interview using the Flash player below:
[audio:http://flash1.na.kab.tv:8080/eng/shows/crossroads/mp3/eng_mayevent_crossrd_alex-jablonski_10min_2009-05-20.mp3]
Director and documentary filmmaker Alex Jablonski discusses the responsibility of media creators in today's world with Dr. Michael Laitman.
Here's an extract from the conversation:
Alex Jablonski: I don't understand this interconnectedness in my own life on a daily basis, yet. What I am saying is that for me, in my day-to-day existence, I understand the things that I'm viscerally, immediately, and in an immediate space connected to. Do you think it's a spiritual practice? Do you think it's a kind of broader understanding of the world? I'm saying what is it that an individual can do to make this understanding complete?
Michael Laitman: No, I'm speaking about it from the perspective of science. There is no spirituality here. I am an expert in cybernetics, which is a science of systems, systems of government, of management. And out of these systems, when we study a closed system where all the parts are like cogwheels all connected and tied to each other, a wheel can't move however it wants. You can't turn yourself only with respect to your kin. You have to move with the whole system, the global one. That's the meaning of being in a global crisis, meaning we have a global plight. We are all connected, but we can't get along. We're stopping; all like wheels stopping the others. We are stopping each other from moving, and everyone is affecting, in this way, everyone else. So how do we move in harmony?
Listen To The Full Interview (MP3 Download) »

Read The Full Interview (PDF Download) »