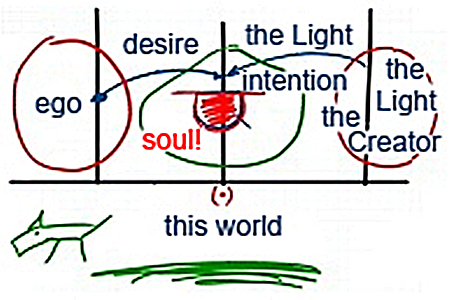 The Unity of Knowledge and Altruism
In the left line, which brings about suffering as a result of the absence of the desired, is awakened a need for the help of the Creator, which comes in the form of Light of the soul. In the right line, in a state when a person desires nothing for the self, there exists only the Light of Mercy (Ohr Hassadim), the joy from the similarity in spiritual qualities. But this state is not perfect, because it lacks knowledge and the understanding of the inner meaning. In the left line is no perfection because the Light of Wisdom can illuminate only if there is congruence in qualities between the Light received and the recipient of the Light.
The congruence results in Ohr Hassadim, which is found in the right line. Spiritual gains can be made only by having a desire. But the right line has no desire for anything. All the desires are concentrated in the left line. However, the desired cannot be received into the egoistic desires.
Thus, it is necessary to unite these two qualities so that the Light of knowledge and pleasure of the left line can enter the Light of altruistic qualities of the right line, and the Light of the middle line will illuminate the created being. Without the Light of the right line, the Light of the left is not revealed and is perceived only as darkness.