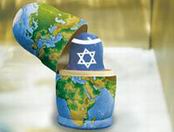 Israeli Social Affairs Minister Isaac Herzog was quoted as saying, "There is a long trail of anti-Semitism in Europe." Kabbalah says we must look inside for the reason.
Click here to read full article
According to the wisdom of Kabbalah, anti-Semitism will continue to spread and intensify until Jews fulfill their reason for being in this world: to learn how to love their neighbors as themselves, as taught by Rabbi Akiva, and then pass this teaching on to the rest of the world.
Click here to read full article
Click Here to Sign Up for a Free Kabbalah Introductory Course – Starts Soon!
Comments off