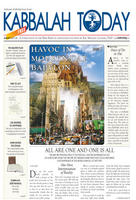 Editor's Note
Days of Do or Die
A glance at last month's news reveals a startling picture: floods, fires, quakes, terror, corruption, and a nuclear radiation leak are just some of the issues that made the headlines. It seems we are approaching days of do or die.
And indeed, there is a lot we can do for ourselves, but we must resolve to do it. According to Kabbalah, things do not happen by chance; they occur to show us the direction towards happiness. The faster we follow the signs, the sooner we will achieve this goal.
This issue of Kabbalah Today discusses why we are unhappy, but mainly what we can and should do to change that. The items in this issue present the solutions Kabbalah offers from multiple angles. It is our sincere hope that reading this paper will provide you with renewed sense of strength, hope, and faith in the good future of humanity.
Click here to view the e-version of Kabbalah Today Issue 6
Click here to download the Kabbalah Today Issue 6 PDF
Click Here to Sign Up for a Free Kabbalah Introductory Course – Starts Soon!
Comments off