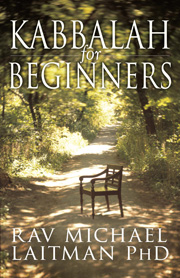 Kabbalah for Beginners is a book for everyone who is seeking answers to life's essential questions. We all have problems; we want to know why we are here, why there is pain and how we can make life more enjoyable.
The four parts of this book tell us exactly how the wisdom of Kabbalah came about, who discovered and developed it, and what they discovered. Afterwards, the book tells us about the world we live in and finally, it explains how we can make our lives better for ourselves and for our children.
Part One discusses the discovery of the wisdom of Kabbalah, and how it was developed, and finally concealed until our time.
Part Two introduces the gist of the wisdom of Kabbalah, using 10 easy drawings to help us understand the structure of the spiritual worlds, and how they relate to our world. These drawings are accompanied by explanatory texts that make understanding Kabbalah very easy.
Part Three reveals Kabbalistic concepts that are largely unknown to the public. For example: the Creator exists nowhere but within us; our senses reveal what they sense, not what is really out there; and reality is nothing but a reflection of our perception, and hence changes when we change.
Part Four elaborates on practical means you and I can take in order to make our lives here better and more enjoyable for us and for our children. It explains how we can implement Kabbalistic principles such as freedom of choice and the power of society, and thus become more whole and fulfilled individuals.
View/Download/Purchase Kabbalah for Beginners:
– PDF version
– MS Word version
– Purchase the Book from our Bookstore for only $7.00
Click Here to Sign Up for a Free Kabbalah Introductory Course – Starts Soon!
Comments off