QUESTIONYOURREALITY.com – the world's first ever interactive video FAQ site on authentic Kabbalah, spirituality, world crisis and natural law.
QUESTIONYOURREALITY.com uses cutting edge flash video to deliver the authentic wisdom of Kabbalah in an entertaining, informative and dynamic fashion.
Choose from 5 categories of questions, asked by people off the streets, and receive answers and guidance to free further study on the topics.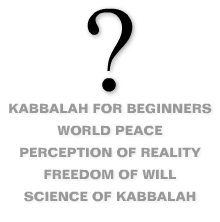 Click here to go directly to QUESTIONYOURREALITY.com
Click Here to Sign Up for a Free Kabbalah Introductory Course – Starts Soon!
Comments off