From Today's Daily Lesson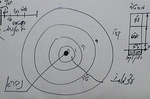 In the preparations for the 2008 International Kabbalah Congress, for the last two months Bnei Baruch's daily lessons have focused a lot on Baal HaSulam's and Rabash's articles about the society as a factor for spiritual attainment (see the Must-Read Sources section of the Kabbalah.info Congress 2008 section for abbreviated versions of these articles).
In addition to these articles, today's 3rd part of the lesson was based on Rav Laitman's recent arrangement of Baal HaSulam's writings of the Last Generation.
Unlike the articles studied over the past two months, the writings of the Last Generation are a collection of Baal HaSulam's unpublished handwritings on the subject of human society in its final, corrected state. These writings have already formed the basis for the book Dor HaAcharon (Hebrew for The Last Generation), which is currently available only in Hebrew.
Selected parts of these writings were arranged by Rav Laitman with the aim of spiritually preparing Bnei Baruch students for the 2008 International Kabbalah Congress.
Today's lesson was the first in a daily series of lessons based on these writings.
Download Today's Lesson: wmv video | mp3 audio [56:38]
Click Here to Sign Up for a Free Kabbalah Introductory Course – Starts Soon!
Comments off