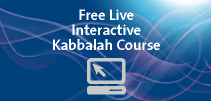 Sign Up Free Here
Upcoming 24-Week Semester at the Bnei Baruch Education Center
Begins September 3
What Does the Course Give You?
* A firm basis in authentic Kabbalah methodology, providing a deep understanding of nature, the world, and who you really are
* Practical tools with which to take control of every challenge in life by learning the real rules of the game
* A unique illumination that can be sensed only by the study of authentic Kabbalah texts, an illumination that reveals and helps you realize your life's true purpose
What Is in the Course?
* 24 weeks of graduated study made simple, starting with fundamentals and progressing through technical aspects of the structure and inner nature of the force and law shaping our lives. You will learn how to connect with this force, and use it for yours and humanity's benefit
* You'll discover what Kabbalah is and isn't, how it defines our perception of reality, what determines our feelings of pleasure and pain and how to correct the source of suffering, how to understand the "language of the Kabbalists" – what the texts are actually talking about, what free will is and how to attain it
* Instruction on how to study from authentic Kabbalah texts
* Study according to the schedule or at your convenience by downloading archived lessons
* Educational forum for direct personal answers by instructors to your questions as they arise in the study
* Free authentic texts and supporting books
* Free access to a virtual community of other students of Kabbalah
Click Here for More Information & to Register
Click Here to Go Straight to the Registration Page
Click Here to Sign Up for a Free Kabbalah Introductory Course – Starts Soon!