Kabbalah Bookstore – August Specials
Until August 30, you have the opportunity to get two book packages at the cheapest prices ever:
1) Wisdom Gift Package – 7 books for Kabbalah beginners by Rav Michael Laitman, PhD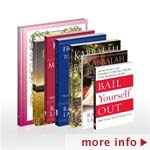 Contains:
1. From Chaos to Harmony: The Solution to the Global Crisis According to the Wisdom of Kabbalah
2. Bail Yourself Out: How You Can Emerge Strong from the World Crisis
3. Kabbalah, Science and the Meaning of Life
4. Kabbalah for Beginners
5. A Guide to the Hidden Wisdom of Kabbalah
6. Kabbalah Revealed: A Guide to a More Peaceful Life
7. Together Forever: The Story About the Magician Who Didn't Want to Be Alone
…for only $40. Click Here to Purchase.
2) Main Kabbalah Sources – 3 books that every regular Kabbalah student should have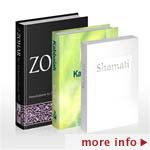 Contains:
1. Kabbalah for the Student
2. Shamati (I Heard)
3. The Zohar: Annotations to the Ashlag Commentary
…for only $65. Click Here to Purchase.