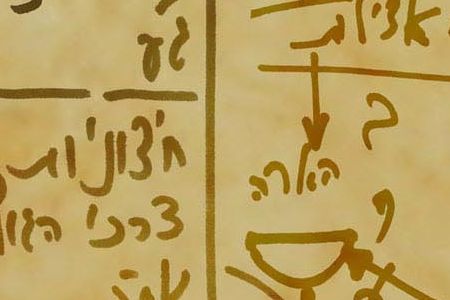 Numbers 4:21-7:89
This Week's Torah Portion | May 25 – May 31, 2014 – Lyar 25 – Sivan 2, 5774
In A Nutshell
The portion describes the children of Israel's preparations to set out on a journey from Mount Sinai to the land of Israel. The bulk of the work revolves around the tabernacle. The census in the tribe of Levi continues, and there is a description of the distribution of duties between the families of Levi, Gershon, Kohat, and Merari. The Creator gives an order to send the impure people outside the camp as preparation for the inauguration of the tabernacle.
Afterward the portion narrates different situations in which the people need the help of the priests and the tabernacle. The incidents are connected to negative acts such as stealing, a person swearing in the name of the Creator in vain and must offer a sacrifice, and a woman who strayed and is suspected of committing adultery and is therefore brought to the priest. There are also positive incidents, such as the story of the hermit, detailing the laws that a person who makes a vow takes upon himself, and the blessing of the priests, the blessing that the priests bless the people.
The end of the portion discusses the gifts of the presidents and the great celebration—the inauguration of the tabernacle. The portion ends with the conclusion of the preparations, when the people of Israel can set out to the land of Israel.

 Commentary by Dr. Michael Laitman
The Torah speaks only about our soul and how we should correct it. We do not correct the body because the body is an animal and acts according to its nature. We must reinstate the "portion of God from above" (Job 31:2); this is the soul.
We do it as it is written, "I have created the evil inclination; I have created for it the Torah as a spice"[1] because "the light in it reforms."[2] When we begin to connect to others under the condition, "love your neighbor as yourself,"[3] we find how repelling we find this act. We do not want to see anyone, only use them for our own benefit.
This is our nature, as the Creator said, "I have created the evil inclination." However, the more we study and try to draw closer to each other, and discover how utterly impossible it is, the more we feel our nature as bad, as ill will, evil inclination. Then we need a means to correct it, and this is the light that reforms.