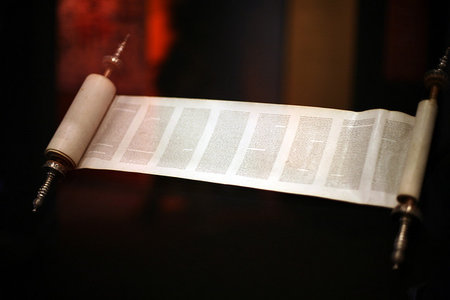 Numbers 16:1 – 18:32
This Week's Torah Portion | June 14 – June 20, 2015 – 27 Sivan – 3 Tammuz, 5775
In A Nutshell
The portion begins with the story of Dathan and Abiram, and 250 of the presidents of the congregation who rebelled against Moses and Aaron with what seemed like a just argument: Since the entire nation is holy, Moses and Aaron should have the same status as the rest of the people. The reply they received was that although they are all equal, Moses and Aaron are the leaders that can be in contact with the Creator. Following the mutiny, the ground swallowed the 250 presidents of the congregation, as well as Korah and his company, and the people suffered from a plague until Moses asked the Creator to end it.
The end of the portion debates the question of leadership in the nation. A test was held between all the staffs (rods) of all the leaders, and the only one that blossomed was Aaron's staff, which signaled his unequivocal leadership.

Commentary by Dr. Michael Laitman
We can interpret the explanation of the Torah (Pentateuch) on two levels—the level of this world and the level of the hidden, spiritual world. On the level of our world, the story of Korah is very relevant even today.
For thousands of years, our world has been developing through our egos. 3,800 years ago we lived in what is now known as Ancient Babylon. This is when Abraham—the quality of Hesed (mercy)—rose, as well as the priests that followed him, who are also from the quality of Bina, Hassadim.
Abraham discovered that the whole world must develop and achieve a state of unity and connection, and shared his revelation with the Babylonians. While many followed him, they were only a handful compared to the majority that rejected his ideas. Abraham had to flee from Babylon, chased by Nimrod, the king of Babylon.
Abraham established a method for correcting human nature. Today we call that method, "the wisdom of Kabbalah," whose purpose is to elevate man from the depth of egoism to the level of bestowal and love.
This ascent is in fact the goal of our development—to rise from the level of this world to the level of the spiritual world. Spirituality is bestowal and the love of others, by which we acquire eternity and wholeness. This is the meaning of the text in this portion, as well as in The Book of Zohar, which talks about freedom from the angel of death.