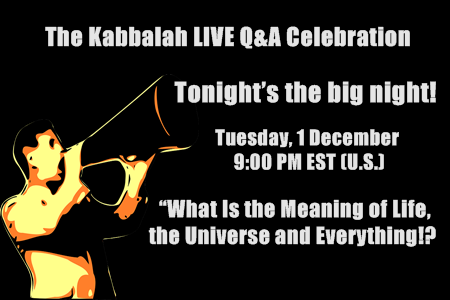 Tonight's the big night! The Kabbalah LIVE Q&A Celebration, "What Is the Meaning of Life, the Universe and Everything!?"
Tuesday, 1 December is here, and as the night sets in, at 9:00 PM EST (U.S.), the action starts!
Here's your link to join:
kabbalah.info/what-is-the-meaning-of-life
As well as getting your question answered, you will also go into the prize draw to win some free book & CD packages we'll be giving away on the night.
See you soon!
Thanks,
Mark
Your friend at the Bnei Baruch Kabbalah
Education & Research Institute