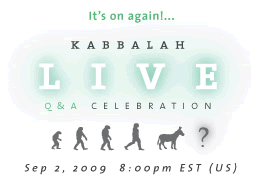 It's On Again Next Week!
Kabbalah LIVE Q&A Celebration
Thanks to everyone who attended the Kabbalah LIVE Q&A Celebration event last night! It was definitely a pleasure for everyone who put together the event, and we hope that if you were there, you received something unique from it.
Since we received a lot more questions than we were able to answer, we're going to run another Q&A Celebration at the exact same time and place next week:
WHEN: Wednesday, 2 September 2009
TIME: 8:00pm EST (U.S.)
WHERE: Kabbalah.info/live
This will be a one-off event, open to the public, and as such it is the last opportunity we're offering before the Education Center Fall 2009 semester starts (on Sept. 9), where you can invite friends to ask their questions and get them answered in a live public setting.
Click Here to Invite Your Friends
We'll do our best to answer their question on Wednesday night, and also, they will go into the draw to win one of many book & CD prize packs on the night. Moreover, by inviting your friends, you'll have the ability to download some free materials we're offering for each friend you invite…

(Note: You're welcome to write made-up e-mail addresses in the "Tell Your Friend" fields of the above page, i.e. if you want to download the materials and don't have a specific person in mind to invite to the Q&A Celebration 🙂
We hope to see you this coming Wednesday night, 2 September, at 8:00pm EST (U.S.)!