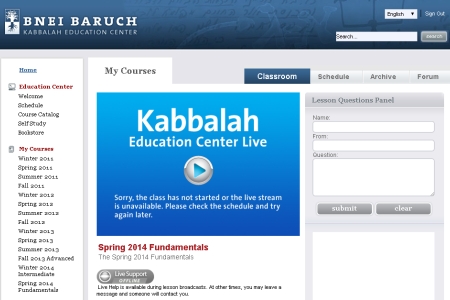 The Bnei Baruch Kabbalah Education Center is happy to announce the start of a new EC semester beginning tonight, on Wednesday, March 19. 
Whether you wish to share the wisdom of Kabbalah with friends or family, or you wish to review what you have already studied, the upcoming semester will have something for everyone as EC instructors cover the following topics and many more in this course:
Introduction to Kabbalah
Where Did You Come From? Where Are You Now? Where Are You Headed?
Who Are You? What Is Reality?
Where Do Your Thoughts & Desires Come From? How Can You Use Them Optimally?
The Language of Kabbalah: Roots and Branches
How to Make World Peace A Reality
Do You Have Free Will?
How to Discover the One Force Acting on You
Creation & Evolution Explained: From Before The Big Bang to the Future, Final State of Existence
Go Here to Sign Up for the Course »
The course is free of charge and all students have access to the following:
10 weeks of study (2 classes per week),
Live interaction with instructors during lessons where students can ask questions,
Free, optional access to a web-based community where students can post questions that will be answered by instructors and moderators,
Free PDF versions of all course materials,
A lesson archive where all lessons are posted if you miss a live class or wish to review.
Go Here to Sign Up for the Course »
Most importantly, this course and the whole of the wisdom of Kabbalah is there for anyone who has asked the question "What is the meaning of life?" and been unable to find an answer. We look forward to exploring this wisdom with anyone who is still asking this question. Just sign up for the course, and we'll look forward to seeing you tonight (Wednesday, March 19).
Go Here to Sign Up for the Course »

Image at top: A screenshot of the Kabbalah Education Center's Virtual Classroom page where the classes will be broadcast live.