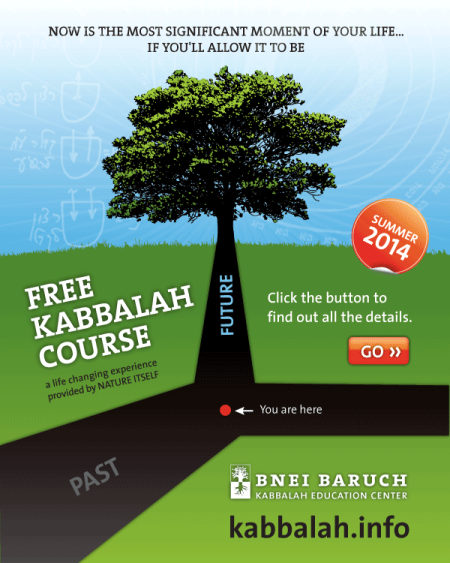 The Bnei Baruch Kabbalah Education Center has announced the start date of the next Kabbalah Live Fundamentals course: Wednesday, June 11, 2014.
Enrollments for the upcoming course opened today at FreeKabbalahCourse.com
By signing up to the course, you will get:
Instant access to an immediate self-study video course
Instant access to a free copy of the eBook The Secrets of the Eternal Book, which describes the inner, spiritual meaning behind well-known Bible stories such as Noah's Ark and the flood, Adam and Eve in the Garden of Eden, Cain and Abel, the Tower of Babel, Abraham, Terah and Nimrod, the 7 days of creation (Genesis), and more
An e-mail reminder when the course start date comes closer
Access to download the lessons if you can't make them live, or if you want to review the live lessons
Access to an online community with a student forum, where you can ask questions and get them answered by instructors and moderators
Opportunity to further advance in your studies with more free courses after the initial free Kabbalah Fundamentals course
Moreover, a new Kabbalah Fundamentals course curriculum is currently being piloted and will be e-mailed to all who sign up closer to the start of the Summer 2014 course. The new curriculum aims to provide a more comprehensive introductory experience into the wisdom and method of Kabbalah.