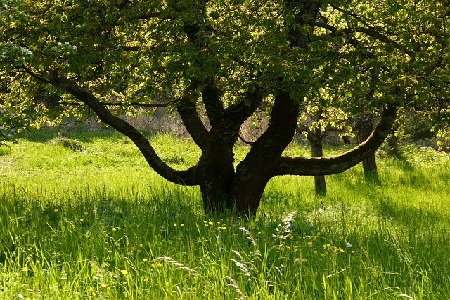 It is written, "A person is like a tree in the field." A tree can be planted in a field that is blessed by the Creator, where it will be watered by rain and warmed by the sun whenever it needs. Or the tree – the person – can be planted in infertile, dry land, where the person will not be able to grow. Or, even if he grows, he is like a wild tree that does not bear fruit.
When it comes to spiritual development, a person determines his own place. His attitude to the books, the teacher, and the friends is able to change the soil and the sun, the moisture conditions, and all the other conditions needed for his growth.
A person starts by receiving a "point in the heart" – a spiritual seed, and he must then decide where to plant it and how to absorb the force from the environment needed to grow his seed into a tree. If he chooses the right environment, he will be able to demand from it the force of bestowal – "rain." This force will allow him to grow from the material world upward. His intentions of bestowal will sprout"from the soil up."
We have to care for our "tree," which means that we must choose desires that can be corrected, and then organize them properly so they will grow and shape us into the right form – one that's similar to the Creator. This is all of our work.
So, on one hand, it appears as if the tree grows on its own. However, starting from the time it is a seed, there are many actions that depend on us. The tree cannot grow independent of us, but only in virtue of our desire.
[Source: http://laitman.com/2009/09/a-person-is-like-a-tree-in-the-field/]
New to Kabbalah? 
Since the wisdom of Kabbalah is fundamentally different to all other teachings and contains different definitions of terms and concepts that we are raised to associate differently to how they're presented in the wisdom of Kabbalah, we highly recommend signing up for the Free Kabbalah Course, which provides a detailed introduction to the wisdom, in order to best provide a person with an introduction to the wisdom's basic concepts and fundamental principles, and through which you can decide whether you would like to continue the free studies in order to attain the goal of the wisdom.