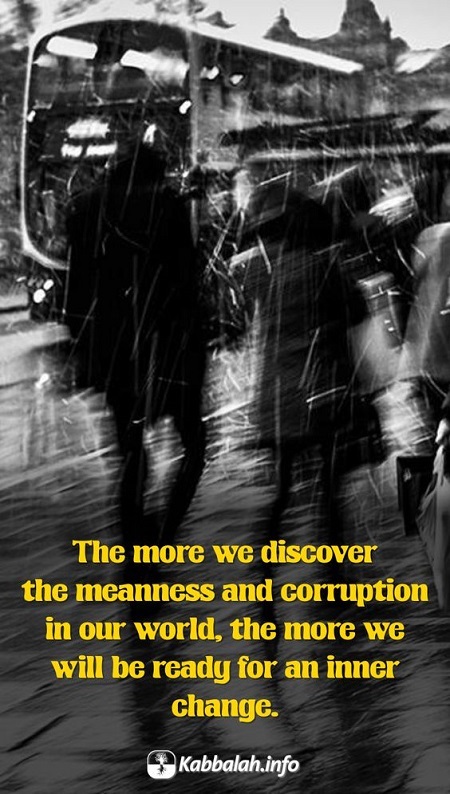 The more we discover the meanness and corruption in our world, the more we will be ready for an inner change.
[Tweet This]
First, we have to feel bad and when the evil is revealed we begin to ask and to clarify why we feel bad. If we are developed enough, we begin to ask about the source of evil, about the cause for evil, about the purpose of evil. Then we feel that we are connected to the upper force by fate. We begin to live more and more by a prayer to adhere to the force of bestowal. Gradually we begin to feel we don't yearn to fill our vessels of receiving, but totally want to remain in the appeal, in giving. You have nothing and you don't need or want anything. Gradually we begin to feel it. This is depicted to a person only after a very long time since it requires an inner change of his systems, of the system of his soul.
Kabbalah Revealed!
The live online course. No prior knowledge of Kabbalah is needed.
DISCOVER a deeper understanding of Nature, the world and who you really are. OBTAIN tools that can help you develop a new approach to life and GAIN a unique perspective that will help you make sense of events in the world today.
Sign Up Now To Start Immediately. Enrollment Closes on May 4.
Click banner below for INFO & REGISTRATION