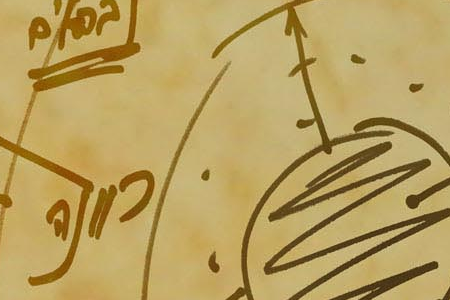 Deuteronomy, 7:12-11:25
This Week's Torah Portion | August 21 – August 27, 2016 – 17 Av – 23 Av, 5776
In A Nutshell
In the portion, Ekev (Because), Moses continues his speech to the people of Israel. He reiterates that if Israel keep the laws and the ordinances that the Creator commanded them, they will be awarded happiness, health, and triumphs over their enemies. But if they do not, the Creator will not keep them and they will be lost among the nations.
The portion also describes the virtues of the land of Israel, the seven species. Finally, the people are commanded to teach these things to their children and to carve the Mezuzah[1] on their doorsteps.

Commentary by Dr. Michael Laitman
Moses warns the people to keep the laws of Nature because the Creator is Elokim (God), and in Gematria (numeric values ascribed to Hebrew letters) it is "The Nature."
The Creator gave us the Torah (Pentateuch), the laws of the world. The Torah is like a physics book, except that the laws in it are absolute, and totally precise. Only Israel received them. If we act according to these laws we will be above everything. We received a promise in advance, and this is truly what is happening. If we keep the laws before us we will receive anything we want—happiness, respect, security, health, eternity, wholeness, this world and the next world.
These laws come down to one: "love your neighbor as yourself; it is a great rule in the Torah." All we need is to keep that law—love of others. The whole Torah speaks of nothing but that.
The problems begin with keeping that law. We cannot do it alone. It is only possible in an environment that sustains us, along with all the members of that environment. Only through mutual support can we truly keep that law. Baal HaSulam (Rav Yehuda Ashlag) mentioned in that regard a story about two friends sailing in a boat. When one of them began to drill under him, his friend asked, "What are you doing?" the other replied, "It is none of your concern, I am drilling only under me."