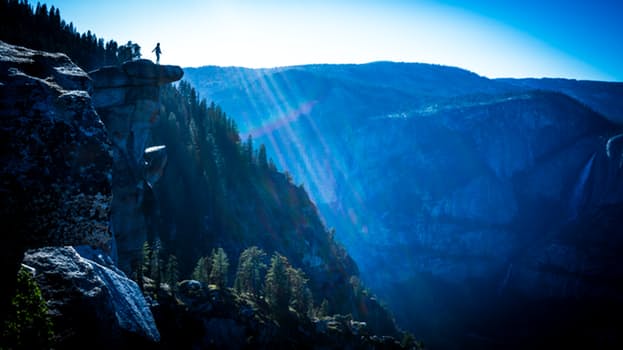 "If we find ourselves with a desire that nothing in this world can satisfy, the most probable explanation is that we were made for another world."? C.S. Lewis
For the most part, human beings have never looked for meaning beyond the framework of material life. Frankly, there's never been a need until now. Humanity has always fulfilled itself with its natural passions for food, sex, and family, and with more "civilized" things like wealth, honor, control, and knowledge.
Of course, there have always been rare individuals who've looked for meaning beyond the mundane but, for the most part, humanity has been satisfied with worldly pursuits.
Today, things are different. People aren't content with what life has to offer; they want to know why they're alive, and why it's worth living. For thousands of years, people have found ways of answering life's questions, but now they bluntly ask: why do we need this life?
The fact that humanity is asking this question is not the problem. The problem is that it can't find an answer. Now the world is in a crisis. Families are falling apart. Science has reached a dead-end. Depression is on the rise, and people consume themselves with drugs and alcohol just to escape the void that's appearing in their lives.
The challenge that this generation is facing is in finding a solution to the uncertainty that looms in front of it. The world has always had something to offer, but our egos have outgrown it. Now, nature is pushing humanity to develop.
However, the next rung in human evolution is unknown because, like a stone that doesn't appreciate the sound of music, humanity doesn't have the senses to recognize the higher laws that govern life.
Luckily nature has provided the world with a tool that can help it realize its potential—it's called the wisdom of Kabbalah. This science is nearly 6000 years old, but it's more relevant than ever. In fact, it was developed specifically for this generation.
Kabbalah is practical. It's not philosophy or religion. A person doesn't have to be smart to study it or believe in anything. All that's needed is for people to start studying it because it describes the foundation of the world in which we live.
The study itself elevates a person. By learning about the world that Kabbalah describes, a person gradually comes closer to it, revealing immense pleasure and complete fulfillment because a person discovers the source of life itself. When humanity connects to its source it will know what to do, and where it's going. It will understand its purpose in this world, and attain the feeling of true life.
By Shane Greve