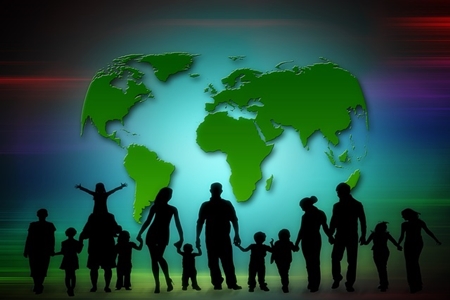 Everyone Needs Integral Upbringing
The world situation is changing rapidly, and there is a need to create an integral method of educating adults. I receive lots of various messages from developed countries: Unemployment is on the rise.
People are at a loss despite the fact that they are receiving unemployment benefits. Currently, they are still available, but what will happen next is unknown. After all, we are talking about hundreds of millions of people who will lose work because the crisis will destroy all the industries that are not vitally important. What will the people who produce what no one needs do?
We see how protest movements are growing due to the Internet, mutual communication, and our mutual influence on each other. All humanity, from ordinary citizens to governments, is interested in taking this process under control and preventing its spontaneous development because modern weapons plus an unpredictable course of events can lead to disastrous results.
In order to prevent all kinds of disasters, civil or even world wars, we need to think in advance about global, integral upbringing of the majority of the population.
The Key to Healthy People, Family, and Society
Question: Suppose we organize a course on integral education for adults. What results can they get upon completing the course?
Answer: We should understand that from now on, nature offers us only two paths of development leading to one goal. The ultimate goal of nature is complete unity of all its parts, including humanity as a part of general nature.
We can reach this state of harmony, equilibrium, and homeostasis in two ways. One of them is the path of suffering, the realization of this necessity in spite of our desires and inner impulses. This path is very difficult, complex, and forced.
In principle, nature developed us in this way all the time. This is the process of evolution, when we are pushed from behind and thus look for comfort. It turns out that we seek a better life by being pushed from behind, make plenty of mistakes, but eventually develop. This is how man, small societies, as well as humanity as a whole developed in the past.
But there is a possibility of development with dignity, when a person is aware beforehand that all nature is moving towards integrality. Now, the first signs of this future integrality become apparent, obliging us to exist in it as part of society, nature, and the universe.
Nature strives for balance because it is the key to its health, safety, and sustainability both in every part of it (for example, in our body) and the whole system.
Let us take this future state as a common goal of all humanity and begin to approach it, at least in different regions of the world, through various international organizations, beliefs, and, most importantly, through education. Education shouldn't be obtrusive; we should simply tell people about the laws of nature, the laws of the development of human society: behavior, education, family relationships, and child upbringing. We teach people how to live on a fairly modest salary, allowance, or scholarship.
But all this must be taught to people. They do not know how to raise children and how to get along with each other. We see that humanity teaches something completely different: It does not teach or educate its offspring, the future generation, so that it lives well.
We do not think about how to make people happy. We push them into the abyss of capitalist competition, in which they are willing "to eat each other" gladly. But there are no winners in this contest, and in the end, we condemn them to constant stress and problems. As a result, no one sees happiness.
It is essential that psychologists, sociologists, parents, teachers, and people who already understand the problem or can understand it come to a more or less correct conclusion, and with the help of scientists, the public, and the Internet (today it is a considerable force) will be able to show all humanity that this integral education is the key to the healthy society, man, and family. We simply will not survive without it; we will advance with huge losses. Of course, we will achieve the same goal, but it will be a terrible path.
From Integral Upbringing – A Series of Talks between Dr. Michael Laitman and Psychologist Anatoly Ulianov, Talk No. 1, December 11, 2011.
Read full article >> Integral Upbringing, Talk 1
Children's Integral Education
Dr. Michael Laitman discusses children's integral education in this episode of Jewish Times.