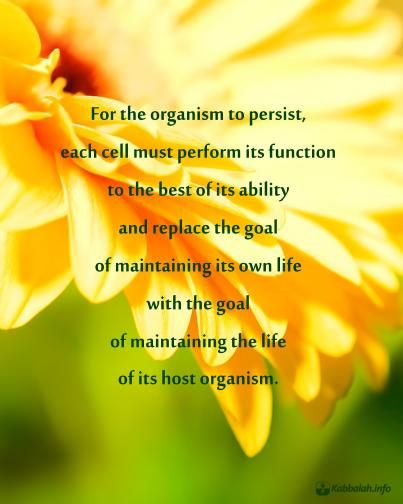 The human body is possibly the most vivid example of the modus operandi of yielding self-interest before the interest of the host system in return for the system's protection. In the human body, as in any organism, each cell has a particular role. For the organism to persist, each cell must perform its function to the best of its ability and replace the goal of maintaining its own life with the goal of maintaining the life of its host organism.
If a cell begins to act contrary to that principle, its interests will soon clash with those of the body and the body's defense mechanisms will destroy it. Otherwise, it is likely to create a tumor of insubordinate cells that strive to consume the body's resources for their own benefit. When such a process occurs, we diagnose it as "cancer."
If the cancer wins, the body dies and the tumor dies along with it. If the body wins and the cancer dies, the body persists, along with the cells of the organ that did not become malignant, and the self-centered cells are extinguished. This is Nature's failsafe mechanism for ensuring that self-centered systems will not exist. Here, too, there is nothing miraculous; it is simply that self-centered mechanisms invariably consume themselves to extinction because they end up consuming their food supply.
Thus, it is in the interest of all cells in the body to dispose of the tumor. Put differently, to guarantee the survival of elements in a system, the elements in that system must cater to the well-being of the system before they cater to their own well-being. In return, the system will cater to their well-being and provide for their survival.
The principle explained just now is valid not only for particles, atoms, and organisms, but for all of life. By applying it, all elements in Nature learn to yield their self-centered natures to an altruistic nature, which considers the good of the collective before its own good.
How can you and humanity as a whole learn examples from nature in order to best survive and prosper? This topic and more are tackled in the Free Kabbalah Course, 20 lessons that will change your life in 10 weeks. The course just started and registration closes soon. Don't miss out!…