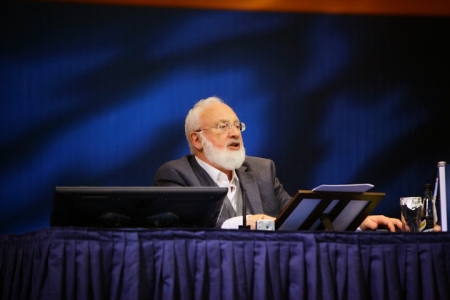 Question: There are English speakers in the U.K., Austral-Asia, South Africa, and all around the world. Is the New Jersey ONE Convention this August meant for them too? Should they make the extra step and come to the U.S., or should they get organized where they are?
Dr. Michael Laitman: I can't say which is better. There are people who live very far. It's hard for them to come. These people need to organize where they live, say in Austral-Asia. It's hard to come from there to New Jersey. You have to go half-way around the world, from Africa or whatever. I would recommend for them to connect among themselves and determine a place where they are going to have a mirror convention and do it there.
By the way, that is true not only for English speakers, although the convention in New Jersey is in English. There will be mirror conventions all over South America, Europe, Russia, Asia. So you don't have to come to New Jersey. If you can come and attend physically, it's great. But if you can't, go to a mirror convention close to your area.
Question: From July 25, we will be starting a whole string of conventions in Colombia, Chile, Ecuador, Mexico, and then we will make it to New Jersey on August 8. The question is, how do we, the whole World Kli, have to get organized? Should we have mirror conventions for each and every convention?
Dr. Laitman: I don't know how to answer that. Almost every day I'll be in a different place in South America. At least, there should be mirror conventions held together with the New Jersey ONE Convention, which is the last and biggest one in this series. I think that there, we should all try to connect and be in our places, but together with all the friends that you can gather into that place.
Student: So the ONE Convention is happening the world over, not only in New Jersey, but really all over the world. People are getting together for mirror conventions and we really encourage anyone and everyone, whoever is in North America, to get to New Jersey.
Dr. Laitman: Yes, there is no doubt. From Alaska to even Mexico perhaps. I expect everyone to be there. There is no doubt that there is a big difference between being physically in the convention and being connected to it through the Internet.
Register for the ONE Convention, August 8-10 in New Jersey Here »
This Q&A is based on the Special Q&A Session with Dr. Michael Laitman in Preparation for the ONE Convention, which took place on Sunday, June 16. Watch the whole video & stay up-to-date with ONE Convention preparation materials here »