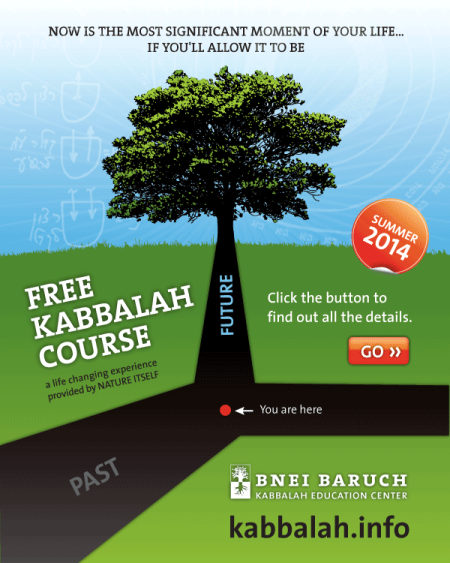 The Bnei Baruch Kabbalah Education Center is happy to announce the start of the new EC Fundamentals semester with a brand new curriculum starting on Wednesday, June 11.
Whether you wish to share the wisdom of Kabbalah with friends or family, or you wish to get deeper into Kabbalah's fundamental principles, the upcoming semester will have something for everyone as EC Instructors cover the following new modules and topics in this introductory course:
Module 1: Kabbalah Basics
1) How Changing the Way You Define 'Kabbalah,' 'Creator' and 'Creation' Changes the Way You Look at Your Whole Life
2) Who Are You? Where Did You Come From? Where Are You Headed?
3) History of the Wisdom of Kabbalah
Module 2: What Is Reality?
4) Do You Live in a Reality or in a Dream?
5) Why Your Intention Is the Only Place Where Reality Transforms
Module 3: The Language of Kabbalah
6) What Is the Law of Root and Branch? What Does it Mean to Attain Spirituality?
7) The Unique Learning Approach in Kabbalah: Learning Through Desire, Not Intellect
8) What are the Optimal Kabbalistic Sources for Our Generation to Progress Spiritually in the Fastest and Happiest Way?
Module 4: Free Choice
9) How You Are Completely Controlled in Every Aspect of Your Life and Why You Still Think You Can Achieve Freedom
10) How to Build Your Own Social Environmental Influence that Lets You Discover Your Freedom
Module 5: Introduction to the Sefirot, Partzufim, Worlds and Souls
11) What are the Four Phases of Direct Light?
12) What Is the Soul? What Is the Meaning of the Sin of the Tree of Knowledge & How Is Where You Are Today Related to It?
Module 6: Kabbalah in Society
13) Overview of Lessons Until Now and Q&A
14) What Is Love? Can You Love the Creator Without Loving Other People?
15) What Is Good and Evil?
Module 7: The Inner Work of Attaining Spirituality
16) How to Discover the Single Force of Love Acting in Every Life Situation
17) The Secret Formula for Attaining the Deepest Form of Independence: Independence from What You Currently Think You Are
Module 8: Methodology of the Study of Kabbalah
18) Fundamentals of the Methodology Part 1: How to Work with the Means of Spiritual Attainment in Order to Attain the Spiritual Goal
19) Fundamentals of the Methodology Part 2: How to Work with the Means of Spiritual Attainment in Order to Attain the Spiritual Goal
20) The Benefits of Learning Kabbalah You Should Start Seeing Even Before You've Attained its Goal
The course is free of charge and all students gain access to the following: 
20 lessons that will transform your life in 10 weeks (2 classes per week)
Live interaction with instructors during lessons where students can ask questions.
Free, optional access to a web-based community where students can post questions that will be answered by instructors and moderators.
Free PDF versions of all course materials
A lesson archive where all lessons are posted if you miss a live class or wish to review.
Student discounts on special book packages at the Kabbalah Bookstore
Most importantly, this course and the whole of the wisdom of Kabbalah is there for anyone who has asked the question "What is the meaning of life?" and been unable to find an answer. We look forward to exploring this wisdom with anyone who is still asking this question. Just sign up for the course, and we'll look forward to seeing you on June 11.