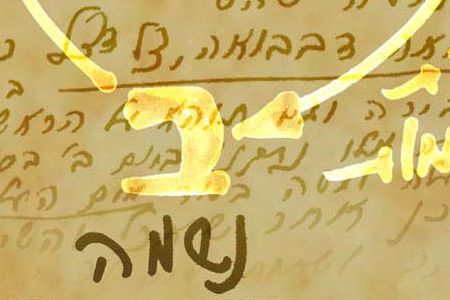 Genesis, 1:1 – 6:85This Week's Torah Portion | October 12 – October 18, 2014 – Tishrei 18 – Tishrei 24, 5774
In A Nutshell
Beresheet (In the Beginning) is the first portion in the Torah (Pentateuch). It tells the story of the creation of the world in six days, and the rest on the seventh day. It talks about the creation of the man, his arrival at the Garden of Eden, and the creation of the woman. The portion also narrates the story of the sin of the tree of knowledge, Cain and Abel, the generations from Cain to Lamech, the ten generations from Adam to Noah, the corruption that engulfed their generations, and the renewed hope that emerged with the birth of Noah.


 Commentary by Dr. Michael Laitman
Beresheet contains more stories than any other portion in the Torah. In many ways it is also the deepest of the portions, as it discusses the basis of our being—the creation of the soul.
The common soul was created out of the will to receive delight and pleasure, or simply, "the will to receive." That will is the soul's core, and it's affected by six qualities: Hesed, Gevura, Tifferet, Netzah, Hod, and Yesod. These qualities penetrated the substance—the will to receive—and designed it in synchrony with the upper force, the Creator. The reason why man is called Adam is that the word Adam comes from the word Adamah, from the verse, Adameh la Elyon ("I will be like the most high," Isaiah, 14:14), since he is similar to the Creator, the sublime bestowal, sublime love, to that upper force that gave birth to it.
Adam is the structure of the soul that is equal in form to the Creator and is in Dvekut [adhesion] with Him in the Garden of Eden. A garden means "desire." The garden is the part of the creature, Adam's substance—the will to receive. Eden marks the degree of bestowal, degree of Bina. Adam, who is on the degree of Bina, is in the Garden of Eden.
This does not pertain to our world or to the universe we know, but rather to the common soul that the Creator created. From the very beginning, the common soul undergoes a special preparation, the sin, because at its inception it was adhered to the upper force, which means that it had no authority of its own, nothing to its name, or any sense of independent existence. In a sense it is like an embryo in its mother's womb—on the one hand it exists, on the other hand it is part of its mother, and each of its actions is ruled by its superior.