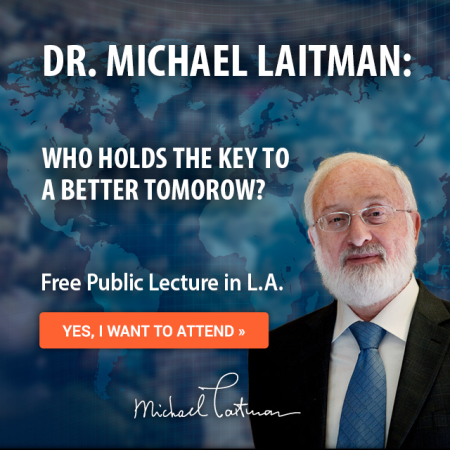 Kabbalist Dr. Michael Laitman will be giving a free public lecture in Los Angeles this Monday evening, November 3, 2014 at 7:30 PM until 9:30 PM Los Angeles time.
The title of the lecture will be Who Holds the Key to a Better Tomorrow? and the lecture will give the Kabbalah take on what makes people single out Jews, the roots behind, and solutions to today's sharp rise in anti-Semitism.
Moreover, as a limited offer, pick up a free softcover copy of Like A Bundle of Reeds when you come to the lecture just by printing the coupon when you RSVP to the lecture at this page.
Here's some more info about the lecture:
When?
Monday, November 3, 2014. 7:30 PM until 9:00 PM.
Where?
Skirball Cultural Center
Ahmanson Hall
2701 N. Sepulveda Blvd.
Los Angeles, CA 90049
Yes, I Want to Attend the Dr. Laitman Public Lecture »