How to Avoid Digging for Fool's Gold
Can one solve this fundamental puzzle of human life without touching upon the question of its source? Every human being encounters this question. The search for the goal and the meaning of existence is the key question around humankind's spiritual life. Hence, starting with the second half of the 20th century, we are observing a revival of humanity's spiritual aspirations.
The technical progress and global catastrophes that gave rise to a variety of philosophies have not brought spiritual fulfillment to humanity. As Kabbalah explains, out of all existing pleasures, our world received only a tiny spark – its presence in corporeal objects is what provides all our worldly pleasures.
In other words, all our pleasant sensations, from whatever source, are caused only by the presence of this spark within them. Throughout our lives, we are placed in a forced quest of new objects of delight, hoping to receive greater and greater pleasures; we do not suspect that they might not be anything but shells.
How to Use the Upper Light to Reveal the Spiritual Motherload
To receive absolute fulfillment, we must acknowledge the need for spiritual elevation above matter. There are two paths in our world to reach that goal: the path of the spiritual ascent (Kabbalah), and the path of suffering.
The path of Kabbalah is a path of independent and voluntary realization of the need to gradually terminate egoism, when the Upper Light is used to perceive egoism as evil.
Sometimes people come to this realization quite unexpectedly. A secular, well-established, calm person suddenly begins to feel acute discontent; any spark of excitement, joy, taste for living, and pleasure disappears from that person's everyday life.
This is the state of our generation, where material abundance gives rise to a sensation of spiritual hunger. We start searching for other sources of fulfillment, often choosing a long and prickly path. Freedom of will exists between the paths of spiritual ascent and the path of suffering. One can only wish that people will "choose life" instead of embarking on the path of suffering, the same path upon which we so often treaded in the past.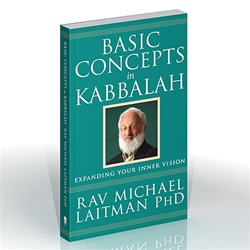 "Don't Miss the Mark! The Signpost on the Path to Spiritual Treasure" is based on the book, Basic Concepts in Kabbalah: Expanding Your Inner Vision by Dr. Michael Laitman.
 Purchase Paperback »

 Get Free eBook »