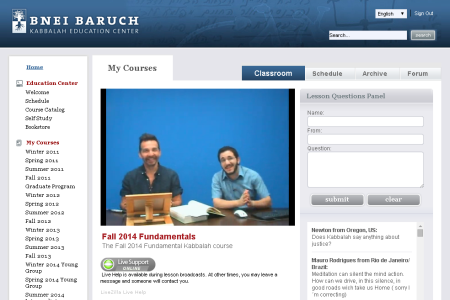 The first lesson in the new Fall 2014 Fundamentals semester of the Free Kabbalah Course begun tonight with the introductory lesson titled: How Changing the Way You Define 'Kabbalah,' 'Creator' and 'Creation' Changes the Way You Look at Your Whole Life.
100s of people joined in live from all around the world to become acquainted with the 5,000 year old wisdom that is revealing itself to more and more people today.
If you missed out on the lesson, the lesson is now available for free download in the archive. Just make sure you're signed up at edu.kabbalah.info, and then click on the "Archive" link to find the first lesson available for download in video and audio formats.
Below you'll find a short excerpt of Q&A from the lesson, and some questions asked by students.
We look forward to seeing you in upcoming lessons and sharing this wondrous wisdom with you!
What Does Kabbalah Say About the Soul – A Q&A Excerpt from the Introductory Lesson
Question: What does Kabbalah say about the soul?
Answer: The soul is a sense for us to feel, understand and act towards the Creator (the quality of bestowal and love) in a loving and bestowing way, in the exact same way He behaves towards me.
We don't have a soul for the time being. We've been told you have a soul and that when you die you will go to "lala" land and revel in flowers and clouds, and so on.
The whole idea of the study is to develop a soul. That is why it is such an amazing wisdom.
Getting a bit deeper into it: Just like the Creator created us from scratch, we have to do the same action in this world: create a soul from scratch. That is the whole idea of the study.
From this point in the heart (i.e. the desire from spirituality), from this little scratch, we have to build a soul. It's a nice question, we'll get more into that topic the more we get into this course.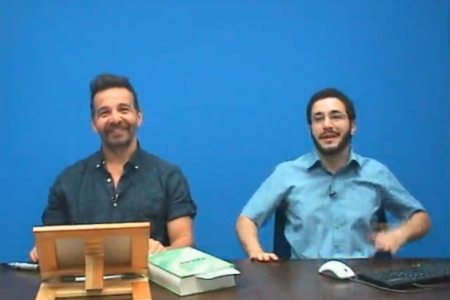 Some More Questions Asked by Participants in the Lesson
If you didn't get your answer live, then you can feel free to ask it in the Student Forum, where Education Center instructors and moderators are ready to answer you.