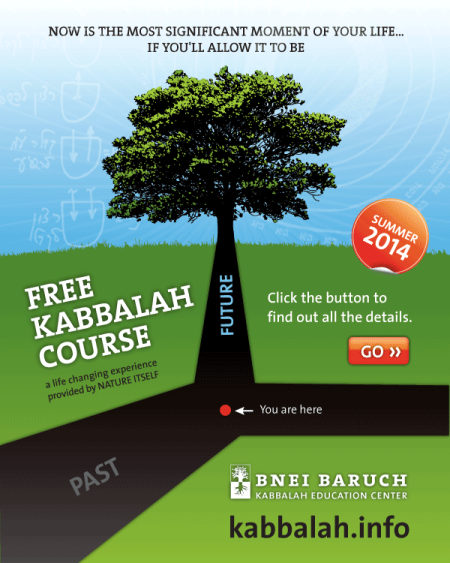 With 20 lessons to transform your life in 10 weeks divided into 8 modules, and piloted in the previous EC semester, below is just a small overview of what you can expect in our highly recommended course for anyone who has not yet been through it, to provide you with a whole new perspective of life, and let you discover how to apply yourself in the method that is guiding 1,000s of people around the world to much wider inner horizons.
Module 1: Kabbalah Basics
1) How Changing the Way You Define 'Kabbalah,' 'Creator' and 'Creation' Changes the Way You Look at Your Whole Life
2) Who Are You? Where Did You Come From? Where Are You Headed?
3) History of the Wisdom of Kabbalah
Module 2: What Is Reality?
4) Do You Live in a Reality or in a Dream?
5) Why Your Intention Is the Only Place Where Reality Transforms
Module 3: The Language of Kabbalah
6) What Is the Law of Root and Branch? What Does it Mean to Attain Spirituality?
7) The Unique Learning Approach in Kabbalah: Learning Through Desire, Not Intellect
8) What are the Optimal Kabbalistic Sources for Our Generation to Progress Spiritually in the Fastest and Happiest Way?
Module 4: Free Choice
9) How You Are Completely Controlled in Every Aspect of Your Life and Why You Still Think You Can Achieve Freedom
10) How to Build Your Own Social Environmental Influence that Lets You Discover Your Freedom
Module 5: Introduction to the Sefirot, Partzufim, Worlds and Souls
11) What are the Four Phases of Direct Light?
12) What Is the Soul? What Is the Meaning of the Sin of the Tree of Knowledge & How Is Where You Are Today Related to It?
Module 6: Kabbalah in Society
13) Overview of Lessons Until Now and Q&A
14) What Is Love? Can You Love the Creator Without Loving Other People?
15) What Is Good and Evil?
Module 7: The Inner Work of Attaining Spirituality
16) How to Discover the Single Force of Love Acting in Every Life Situation
17) The Secret Formula for Attaining the Deepest Form of Independence: Independence from What You Currently Think You Are
Module 8: Methodology of the Study of Kabbalah
18) Fundamentals of the Methodology Part 1: How to Work with the Means of Spiritual Attainment in Order to Attain the Spiritual Goal
19) Fundamentals of the Methodology Part 2: How to Work with the Means of Spiritual Attainment in Order to Attain the Spiritual Goal
20) The Benefits of Learning Kabbalah You Should Start Seeing Even Before You've Attained its Goal
Go Here to Sign Up to the Summer 2014 Free Kabbalah Course »